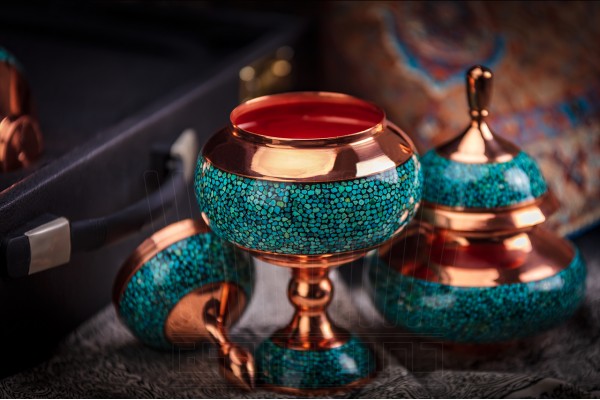 Turquoise Chocolate Pot
Product Code:
Chocolate Pot
Product Description
Chocolate and Sugar Container for Catering
The tray is delicately embossed and the turquoise type of Neyshabur turquoise, which is the finest turquoise, and guarantees 5 years.
It has 4 layers of German polyester, which has the ability to heat and moisture. Its surface is very smooth and flat with metal.
Copper is about 93% pure.
Second and third grade goods are from Damghan and Kerman, and the level of turquoise and metal is not the same level - the surface of the turquoise is not smooth and prominent.
This product is one of the culprits of elegance and love in the art of Isfahan.
This first-grade product has a 5-years personal identification card with a warranty.
Note: Damage, scratches and maintenance in a humid environment are not covered by the warranty service.

Note: Due to the hand-crafted process that leads to any product, your custom product, in terms of role-playing, drawings and style, may not fit 100% of the product provided on the site, and is about 20% different.
| *** | Length | Width | Height | Weight |
| --- | --- | --- | --- | --- |
| BOX | 63 cm | 42 cm | 14 cm | 6,900 g |
| Chocolate Pot | 130 mm | 130 mm | 250 mm | 590 g |
| Sugar Pot | 135 mm | 135 mm | 175 mm | 480 g |
| Termeh | 1,000 mm | 1,000 mm | 3 mm | 600 g |
Espadland's Shipping Terms:
1- Goods purchased during the week following the calculation of the current week's earnings and commission are placed in the shipping process.
2- Once the item is placed in the shipping process, the purchased item will be delivered to the customer within 60 business days (5 days in a week - holidays)
Force majeure conditions are outside the company's obligations and are added to 60 business days.
The total time it takes to receive your order is shown below:
3- Respected marketers and networkers IBO can cancel their purchase till Sunday every week, before 23:00 (before calculating commission).they will receive a 100% refund within 7 business days. After calculating the commission in the current period, there will be no possibility of any kind of return And the customer will fully accept this rule.
4- All goods are subject to qualitative and technical inspection before shipping. Please avoid receiving the package if it is damaged and report it to the Post Officer then report it to the Department of Shipping on the website within 48 business hours.
5- All EspadLand's goods come with identification and Warranty Card.
6- The warranty of the products will be void if the damage is caused by the networker, marketer or customer after Inspection by the experts
7- ESPADLAND will not be liable for any wrong shipping address or postal code entered by the user.
8- Tariff (import fee) for customs cost vary from country to country, all of which are customer-related, and the company has no liability whatsoever.