PRODUCT
---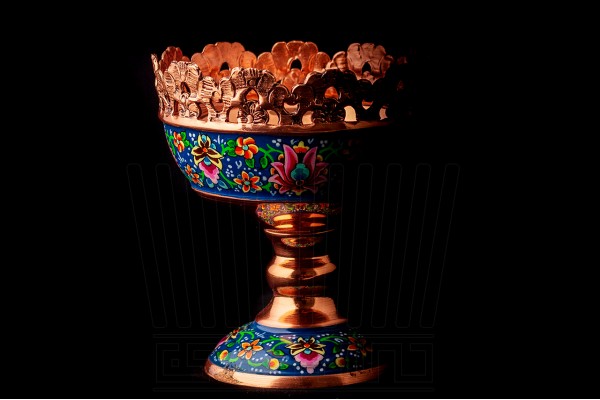 Payment Methods:
Sweets and Nuts for Catering
Copper Enameling Burnish is a unique combination of pumice designs and copper colors. This beautiful handicraft work on your desk at your work or home will make a memorable memory for your guests.
This copper and card product with stunning beauty and durability is the perfect replacement for crystalline and crystalline products.
To produce this work, Iranian craftsmanship is first made of copper crude. Then Professor Enameling, artistically, designs beautiful and delicate designs in specific portions of the container. Together, the beautiful color of the copper metal and the various colors of the Isfahan Pug have created a diverse variety in this fascinating product. This copper and card product can be an ornament for many years and will remind the audience of the original art and culture.
This first-grade product has a 5-years personal identification card with a warranty.
Note: Product boxes are only to protect the products from any damage and it's not a part of the product. As well it is excluded from the warranty coverage.

Note: Damage, scratches and maintenance in a humid environment are not covered by the warranty service.

Note: Due to the hand-crafted process that leads to any product, your custom product, in terms of role-playing, drawings and style, may not fit 100% of the product provided on the site, and is about 20% different.
| *** | Length | Width | Height | Weight |
| --- | --- | --- | --- | --- |
| BOX | 63 cm | 42 cm | 16 cm | 6,800 g |
| Sweet Dish | 240 mm | 240 mm | 110 mm | 480 g |
| Bowl Nuts | 100 mm | 100 mm | 115 mm | 270 g |
| Termeh | 1,000 mm | 1,000 mm | 3 mm | 560 g |
---
SHIPPING TERMS
Espadland's Shipping Terms:
1- Goods purchased during the week following the calculation of the current week's earnings and commission are placed in the shipping process.
2- Once the item is placed in the shipping process, the purchased item will be delivered to the customer within 60 business days (5 days in a week - holidays)
Force majeure conditions are outside the company's obligations and are added to 60 business days.
The total time it takes to receive your order is shown below:
3- Respected marketers and networkers IBO can cancel their purchase till Sunday every week, before 23:00 (before calculating commission).they will receive a 100% refund within 7 business days. After calculating the commission in the current period, there will be no possibility of any kind of return And the customer will fully accept this rule.
4- All goods are subject to qualitative and technical inspection before shipping. Please avoid receiving the package if it is damaged and report it to the Post Officer then report it to the Department of Shipping on the website within 48 business hours.
5- All EspadLand's goods come with identification and Warranty Card.
6- The warranty of the products will be void if the damage is caused by the networker, marketer or customer after Inspection by the experts
7- ESPADLAND will not be liable for any wrong shipping address or postal code entered by the user.
8- Tariff (import fee) for customs cost vary from country to country, all of which are customer-related, and the company has no liability whatsoever.